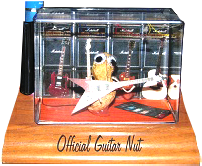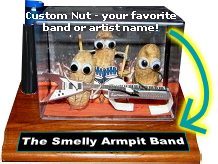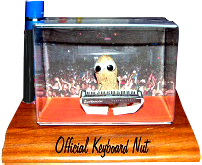 OFFICIAL GUITAR NUT
Check out the mini Marshall amp stacks, Gibson Flying V, Gibson SG, Fender Stratocaster, Taylor acoustic, and floor effects stomp box...I'M JEALOUS! This little peanut dude knows how to rock!
Place this pen stand on your desk at home or work and watch the reaction
OFFICIAL DRUMS NUT
This little guy has is playing a double bass kit! - Carl Palmer, Keith Moon and Ginger Baker would be proud. The real clincher though are the mini drum sticks...too cool. This is the perfect gift for drummers everywhere ...they'll get a "kick" out of it!
OFFICIAL KEYBOARD NUT
Check out this little peanut dude going to town playing his mini-synthesizer. In the background is an appreciative large crowd of fans screaming and clapping at his flawless musical genius. Makes a great gift for any keyboard/piano player.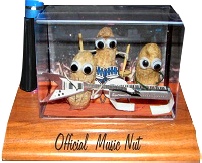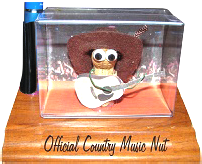 YOUR FAVORITE ARTIST
OR YOUR BAND NAME!
Here's a great way to promote your band or just show others what artist you are nuts about.
OFFICIAL MUSIC NUT
Others may THINK they love music, but this will prove to everyone that YOU are the real deal!
OFFICIAL COUNTRY MUSIC NUT
Here's Mr. Country Music Nut wearing his cowboy hat and strummin' his 6 string to the wild applause of an approving audience in the background. He was country before country was cool.



OFFICIAL BASS NUT
Here's Mr. Peanut dude getting down with his upright bass. But don't be fooled, he's ready to rock with his Fender and Alembic electric basses and Marshall amp. stacks in the background. Get this for that bass player friend who has everything (or wishes he did)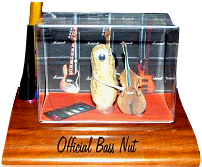 OFFICIAL BEACH NUT
Check out Beach Dude - complete with sunglasses, beach umbrella, flip flops, can of soda (or beer - your choice) and real sea shells to boot. What a great gift for that beach lover friend, family member, or I'm thinking probably yourself.



Place one of these weird but cute little TEDIOUSLY HANDMADE pen holders on your desk and sit back and watch everyone giggle at your nuttiness. They're a riot! Made with real peanuts and encased in protective plastic, our little music dudes are sure to make the perfect gift for that musician friend, co-worker, family member, or more importantly...YOU! Uses any standard pen or pencil. Wood base measures approximately 4.5"x1.5"x2.5" and includes 4 felt feet. A UNIQUE GIFT!